In just 30 minutes, this indulgent and authentic Pasta alla Carbonara is ready to enjoy! With toasted peppercorns, crispy guanciale and lots of freshly grated Pecorino Romano cheese, our simple and satisfying version of classic Carbonara is the ultimate Italian comfort dish.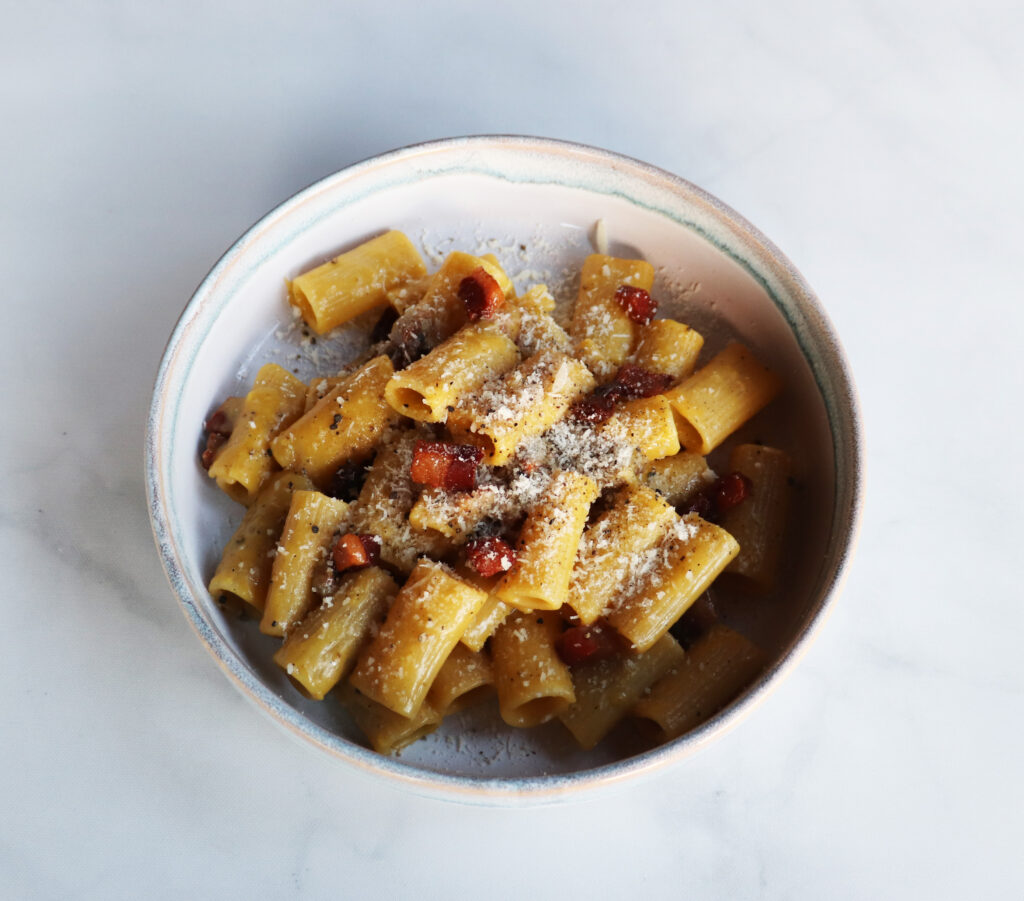 Hailing from Rome, Italy, the iconic Pasta alla Carbonara is a traditional dish made with just five simple ingredients: guanciale (cured pork cheek), eggs, Pecorino Romano cheese, dried pasta and lots of cracked black pepper. We've tried and tested various versions of Carbonara and have repeatedly found that it's best not to tamper with an Italian classic (no garlic, no onion and absolutely no cream!) The key to this super simple recipe is using the highest quality ingredients you can find: buy authentic guanciale from your local Italian deli or butcher and use farm-fresh or organic eggs for best results. Our method balances the inherent saltiness of the crispy pork with a rich, silky sauce that gains its creamy texture using just a splash or two of pasta water.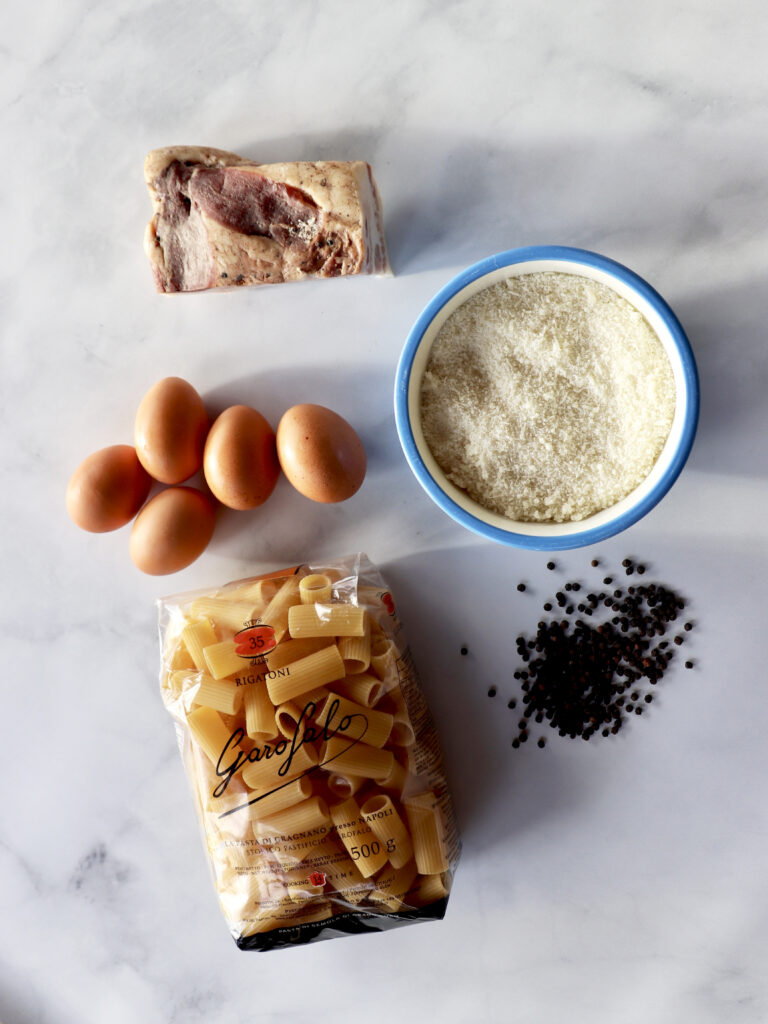 The five key ingredients of Pasta alla Carbonara: dried Rigatoni, guanciale, eggs, black pepper and grated Pecorino Romano cheese.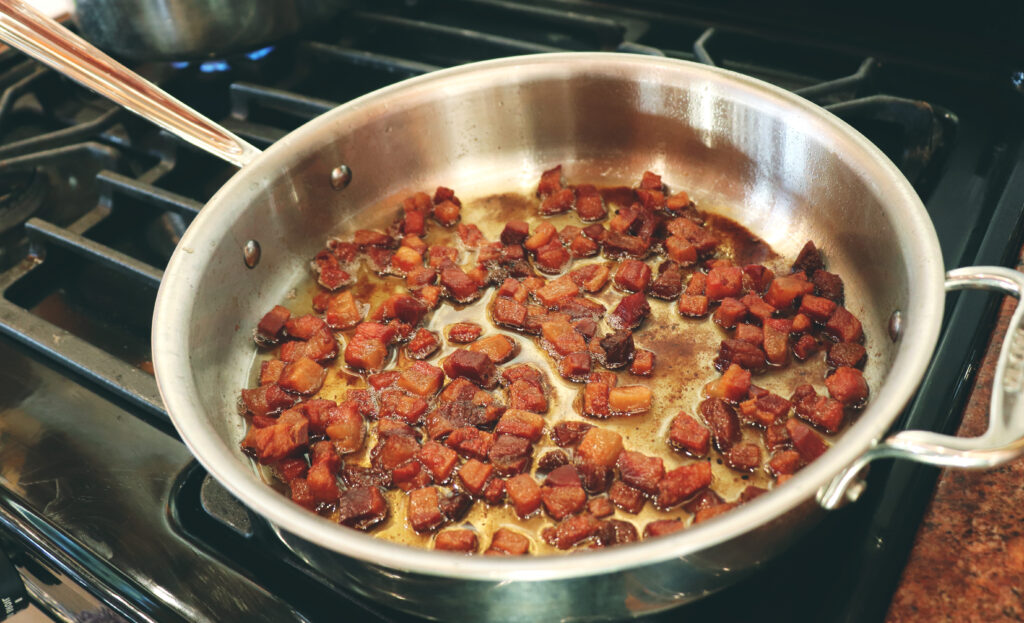 Be sure to fry the guanciale until it's extra crispy.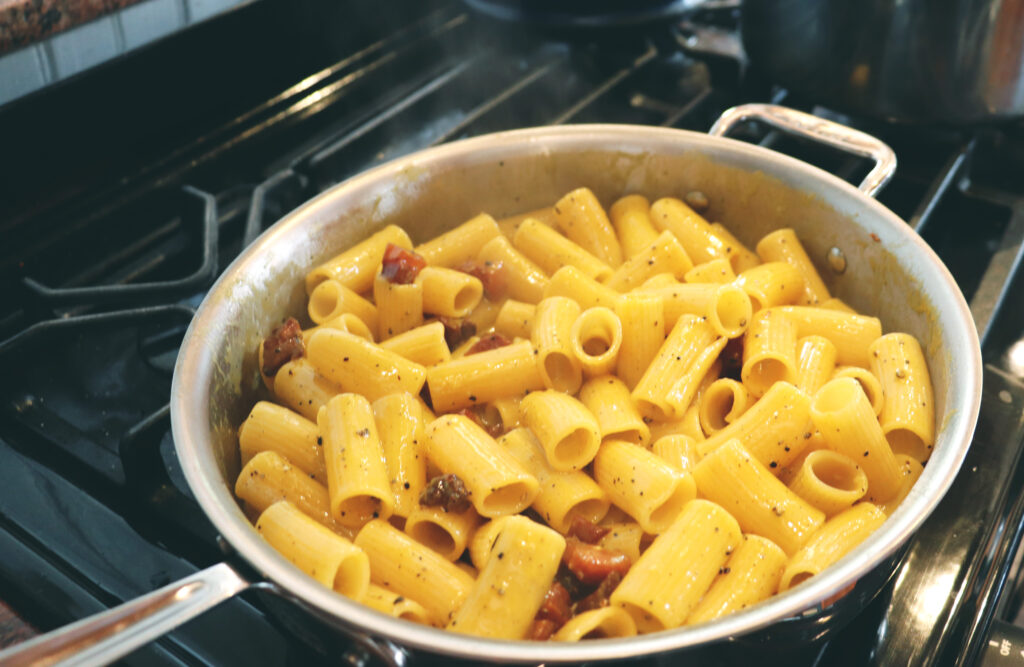 Stirring in hot pasta water is the simple step that makes Carbonara so creamy.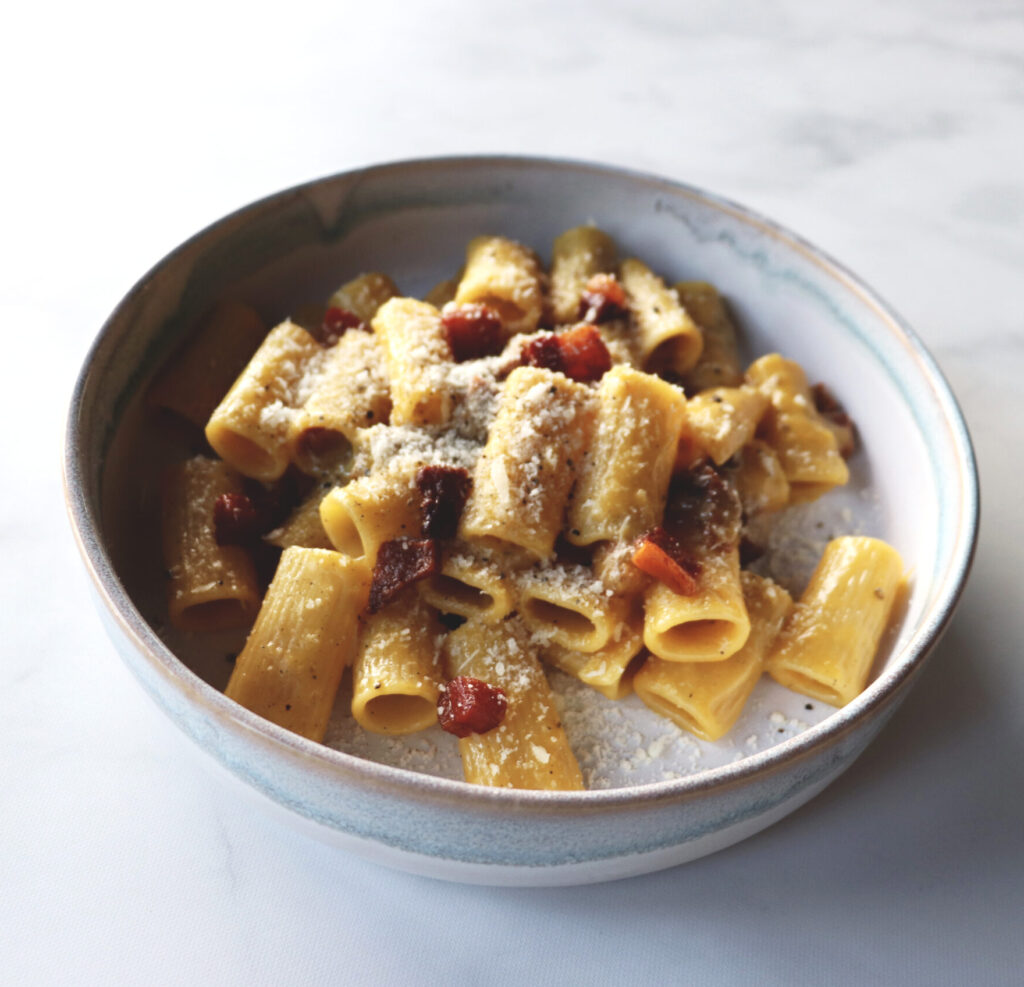 Serve Carbonara right away while still warm.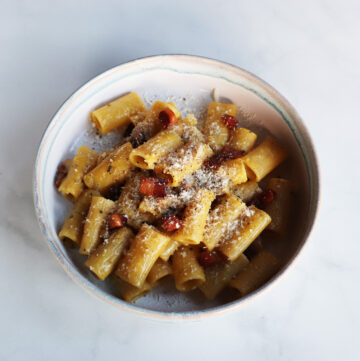 Traditional Pasta Alla Carbonara
Learn how to make traditional Carbonara in just 30 minutes! Only five ingredients are required to craft this rich and satisfying pasta. So easy and so delicious!
Ingredients
1

tablespoon

whole peppercorns

1

tablespoon

extra virgin olive oil

250-300

grams

guanciale*

cut into quarter-inch to half-inch cubes (tough rind removed)

400

grams

dried Rigatoni pasta**

1

whole organic egg and 4 organic egg yolks

room temperature

75

grams

or about 1 cup Pecorino Romano cheese***

grated on the finest setting
Instructions
Place a large pot of water over high heat and bring to a boil.

In a small frying pan, toast peppercorns on medium-high heat until fragrant (about two minutes).

Transfer peppercorns to a mortar and pestle and break down coarsely.

Heat oil in a large sauté pan or frying pan on low heat until shimmering.

Add guanciale to pan and increase heat to medium-high.

After a few minutes of sautéing the guanciale, add a generous handful of salt to boiling water then add pasta. Set timer to cook until al dente (typically a couple minutes less than directions on bag).

While pasta cooks, stir guanciale occasionally until most of the fat has reduced and meat is crispy. Once cooked, turn heat to lowest setting.

Combine egg, egg yolks, half of the grated Pecorino and three-quarters of the peppercorns to a medium bowl and whisk together to form a thick paste. Add half of the remaining cheese and whisk again to incorporate.

Use handheld colander to transfer al dente pasta to pan with guanciale (alternatively drain pasta using sink colander but reserve 1 cup of pasta water). Stir thoroughly to coat pasta with fat. Turn off heat.

Use a ladle to transfer about ½ cup of pasta water to the bowl containing the egg and cheese mixture, pouring slowly while stirring quickly with a fork or whisk until the paste turns into a sauce-like consistency (the mixture should be on the thinner side, but not overly watery).

Pour sauce into pan and mix immediately to coat pasta and guanciale (reminder that the heat should be turned off, or eggs can scramble). Add additional pasta water as needed and continue mixing until you reach desired consistency.

Top pasta with remaining Pecorino Romano cheese and toasted black pepper. Serve immediately.